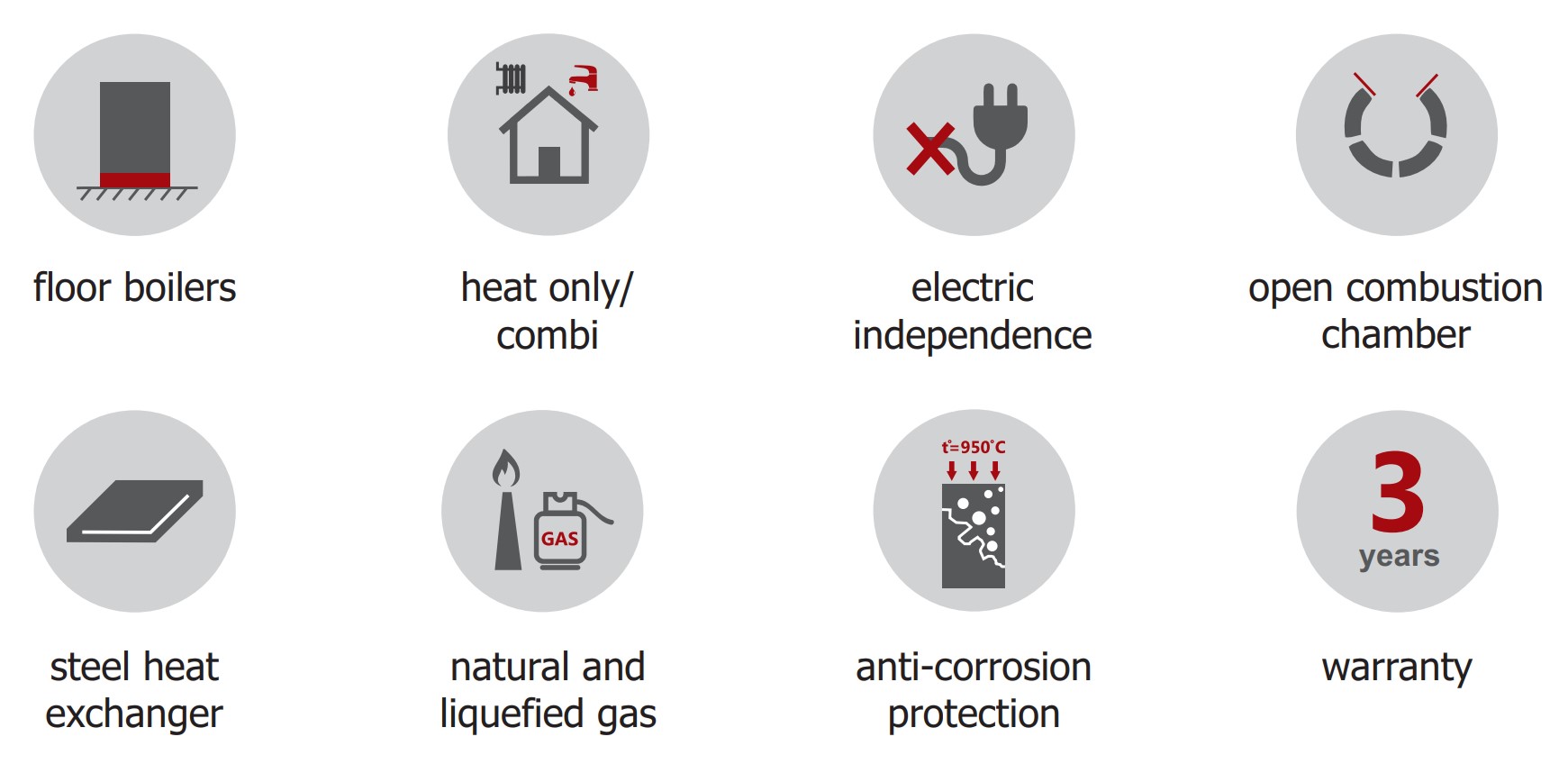 Extended power range from 7,5 to 60 kW.

Operating pressure: from 7,5 to 10 kW - up to 1 atm, from 12,5 to 60 kW - up to 3 atm.
Maximum efficiency due to an increase in the heat exchange area and the use of an innovative design of turbulators for maximum delay of exhaust gases.
Improved safety systems against overheating of the heat exchanger, interruption of traction, soot formation, boilerblowing.
Ease of maintenance of the boiler due to the use of an easily removable top panel.
Аdvantages with automatic 820 NOVA:
The temperature regulator is located on the front panel of the boiler.
Working in conjunction with the Lemax monitoring and control device for remote monitoring and control of the gas boiler and heating system indicators through a mobile application.
Possibility of connecting a room thermostat to regulate the indoor temperature with high precision.
Work in conjunction with the Lemax Extarnal Fan of the Comfort SE series models XL, XXL for forced exhaust gas removal in the absence of a stationary chimney.
A soft start system that provides acoustic comfort at the time of boiler start-up.
| Parameter | Premium-7,5 | Premium-10 | Premium-12,5/ Premium-12,5(W) | Premium-16/ Premium-16(W) | Premium-20/ Premium-20(W) | Premium-25/ Premium-25(W) | Premium-30/ Premium-30(W) | Premium-35/ Premium-35(W) | Premium-40/ Premium-40(W) | Premium-50 | Premium-60 |
| --- | --- | --- | --- | --- | --- | --- | --- | --- | --- | --- | --- |
| Type of gas burner unit | GGU 9 | GGU 12 | GGU 15 | GGU 19 | GGU 24 | GGU 30 | GGU 35 | GGU 40 | GGU 45 | GGU 55 | GGU 65 |
| Nominal heat power, kW | 7,5 | 10 | 12,5 | 16 | 20 | 25 | 30 | 35 | 40 | 50 | 60 |
| Energy conversion efficiency, % not less than | 90 | 90 | 90 | 90 | 90 | 90 | 90 | 90 | 90 | 90 | 90 |
| Heat exchanger volume, L | 16,5 | 16,5 | 24,3 | 24,3 | 42,8 | 40,3 | 40,3 | 62,4 | 62,4 | 66 | 66 |
| Heat takeoff area, m2 | 0,6 | 0,6 | 1 | 1 | 1,6 | 1,7 | 1,7 | 1,9 | 1,9 | 2 | 2 |
| Exit gases temperature °С, not less than | 110 | 110 | 110 | 110 | 110 | 110 | 110 | 110 | 110 | 110 | 110 |
| The range of discharge which ensures stable operation of the boiler, Pa | 4-25 | 4-25 | 4-25 | 4-25 | 4-25 | 4-40 | 4-40 | 4-40 | 4-40 | 4-40 | 4-40 |
| Gas nominal pressure, Pa | 1300 | 1300 | 1300 | 1300 | 1300 | 1300 | 1300 | 1300 | 1300 | 1300 | 1300 |
| Hot water supply loop output over 30 °С delta, Lpmin. (at exit temperature ≥ 15 °С) | - | - | 4 | 5 | 6 | 7 | 8 | 9 | 10 | - | - |
| Average gas flow, m3/hr | 0,45 | 0,6 | 0,75 | 0,95 | 1,2 | 1,5 | 1,75 | 2 | 2,25 | 2,75 | 3,25 |
| Maximum water temperature at boiler exit , °С | 90 | 90 | 90 | 90 | 90 | 90 | 90 | 90 | 90 | 90 | 90 |
| Flue diameter, mm | 100 | 100 | 130 | 130 | 130 | 130 | 130 | 140 | 140 | 200 | 200 |
| Gas pipe diameter, inch | 1/2'' | 1/2'' | 1/2'' | 1/2'' | 1/2'' | 1/2'' | 3/4'' | 3/4'' | 3/4'' | 3/4'' | 3/4'' |
| Connecting pipes diameter, inch | 1 1/2'' | 1 1/2'' | 2'' | 2'' | 2'' | 2'' | 2'' | 2'' | 2'' | 2'' | 2'' |
| Dimensions, mm: | | | | | | | | | | | |
| Height | 747,5 | 747,5 | 744 | 744 | 961 | 961 | 961 | 1016 | 1016 | 1105 | 1105 |
| Width | 330 | 330 | 416 | 416 | 470 | 470 | 470 | 532 | 532 | 585 | 585 |
| Depth | 499 | 499 | 491 | 491 | 556 | 556 | 556 | 608 | 608 | 660 | 660 |
| Mass not more than, kg | 39 | 39 | 53/58 | 53/58 | 75/80 | 80/85 | 80/85 | 92/98 | 92/98 | 125 | 125 |