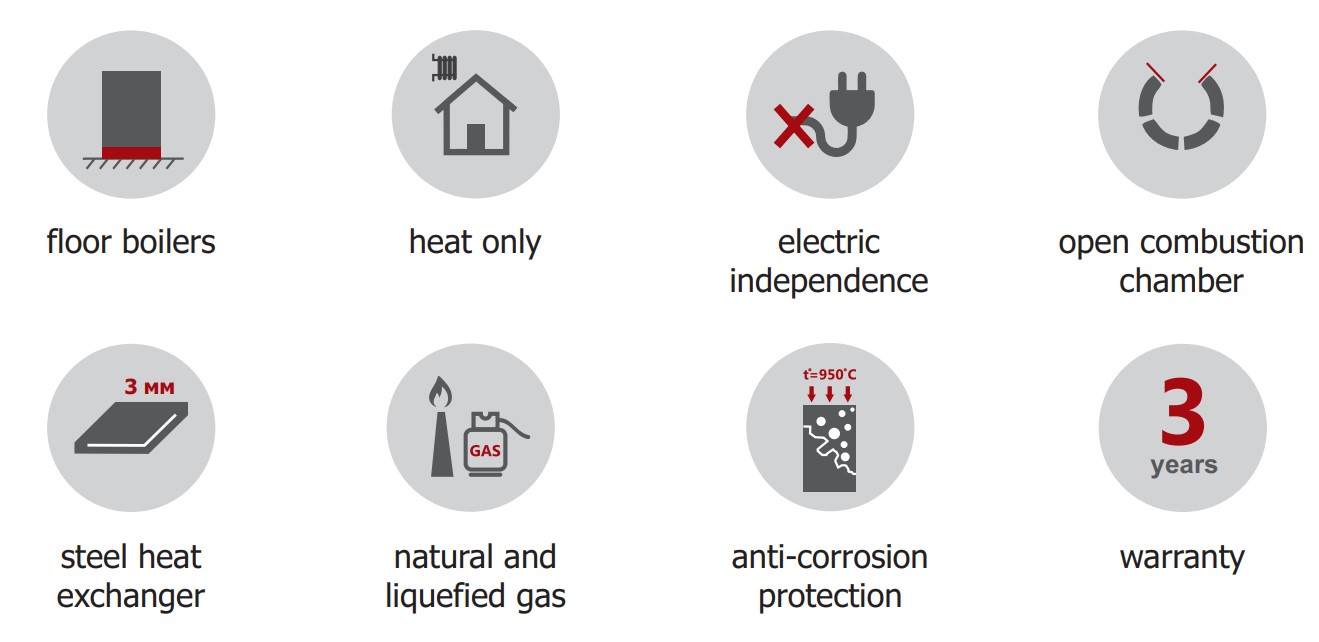 The model range is from 70 to 100 kW.

Maximum efficiency due to an increase in the heat exchange area and the use of an innovative design of turbulators for maximum delay of exhaust gases.
Operating pressure - up to 2 atm.
Two independently operating safety automatics 820 NOVA SIT.
Improved safety systems against overheating of the heat exchanger, interruption of traction, soot formation, boilerblowing.
An overpressure valve is installed in the heating circuit for 3 atm, which allows to compensate for errors during the installation of the heating system.
Ease of maintenance of the boiler due to the use of an easily removable top panel.
Аdvantages with automatic 820 NOVA:
The temperature regulator is located on the front panel of the boiler.
Working in conjunction with the Lemax monitoring and control device for remote monitoring and control of the gas boiler and heating system indicators through a mobile application.
Possibility of connecting a room thermostat to regulate the indoor temperature with high precision.
A soft start system that provides acoustic comfort at the time of boiler start-up.
| Parameter | Premium-70 | Premium-80 | Premium-90 | Premium-100 |
| --- | --- | --- | --- | --- |
| Gas burner unit | GGU 80 | GGU 90 | GGU 100 | GGU 115 |
| Rated heat output, kW | 70 | 80 | 90 | 98 |
| Efficiency coefficiency, no less than, % | 90 | 90 | 90 | 90 |
| Gas pressure rating, Pa | 1300 | 1300 | 1300 | 1300 |
| Average gas flow, m3/hr | 4 | 4,5 | 5 | 5,75 |
| Outlet water maximum temperature, °С | 90 | 90 | 90 | 90 |
| Chimney diameter, mm | 200 | 200 | 200 | 200 |
| The diameter of gas fitting, inch | 3/4'' | 3/4'' | 3/4'' | 3/4'' |
| The diameter of the fitted pipes, inches | 2'' | 2'' | 2'' | 2'' |
| Heat exchange unit capacity, l | 100 | 100 | 118 | 118 |
| Heat turnover area, m2 | 3,3 | 3,3 | 4 | 4 |
| Outlet combustion products temperature, not less than, °C | 110 | 110 | 110 | 110 |
| Dimensions height/width/depth no more than, mm | 1180/754/753 | 1180/754/753 | 1181/975/734 | 1181/975/734 |
| Mass, no more than , kg | 210 | 210 | 265 | 265 |