Wall-hang gas double-pressure boilers the Prime series are presented by Prime-V10, Prime-V12, Prime-V14, Prime-V16, Prime-V18, Prime-V20, Prime-V24, Prime-V26, Prime-V28 and Prime-V32 models. Boilers were designed by Lemax engineering center under SIT GROUP centre for innovation and research for operating under Russian conditions.
Boilers are produced using European components of the following suppliers: SIT, OTMA, WILO, POLIDORO, Valmex, NordGas, Bitron.
Boilers were finally tested in POLIDORO, NordGas and SIT laboratories.
Boilers are ideally suited for installing both in apartments and houses. They are adapted to adapt to gas pressure loss.
Maximum length of coaxial flue is up to 4.5 m.
High level of unification of parts and components for the entire line of wall-mounted boilers.
Solid heat and sound insulation to provide acoustic comfort under apartment heating conditions.
User-friendly operation.
Only European components.
Implemented function of connecting additional peripheral devices.
Implemented control function through iOS and Android.
Increased combustion chamber volume ensures complete gas combustion and extends the operating lifetime of heat exchanger.
Dual protection against heating circuit overpressure.
Operation in high hydraulic resistance systems.
Structurally protected sensors against corrosion and boiler scale.
Extended range of boiler operating voltage.
Integrated ignition transformer.
Two-tiered protection of electronic board.
Water pressure indicator displayed on the LCD.
Independent heat exchanger for hot water circuit.
Composite hydrogroup.
Reed flow sensor.
2 years warranty.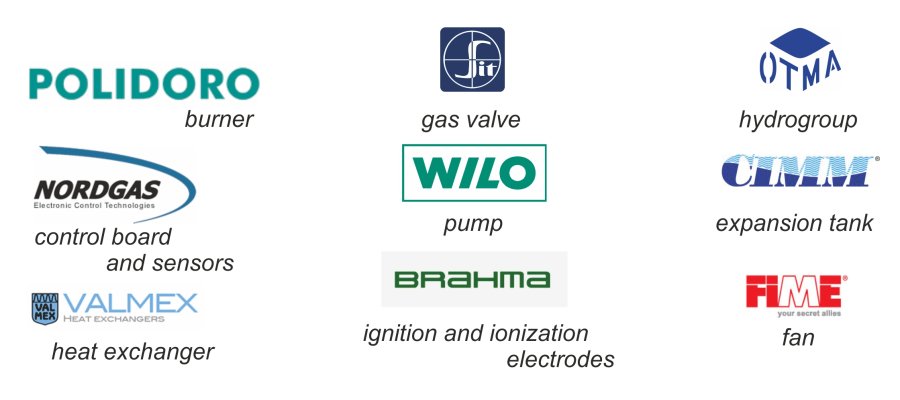 | Parameter | V10 | V 12 | V 14 | V 16 | V 18 | V 20 | V 24 | V 26 | V28 | V32 |
| --- | --- | --- | --- | --- | --- | --- | --- | --- | --- | --- |
| Rated heat output in heating mode, kWh | 10 | 12 | 14 | 16 | 18 | 20 | 24 | 26 | 28 | 32 |
| Minimum heat output in heating mode, kWh | 6 | 6 | 6 | 6 | 6 | 9 | 9 | 11 | 11 | 11 |
| Energy conversion efficiency at 100% of power, to, % | 92 | 92 | 92 | 92,5 | 92,5 | 92,5 | 92,5 | 92,2 | 92,2 | 92,2 |
| Energy conversion efficiency at 30% of power, to, % | 91 | 91 | 91 | 91 | 91 | 91,2 | 91,2 | 90,1 | 90,1 | 90,1 |
| Average gas flow, m3/hr | 0,6 | 0,7 | 0,9 | 1 | 1,2 | 1,3 | 1,4 | 1,5 | 1,7 | 2 |
| Nominal pressure of gas (Natural), Pa | 1300 | 1300 | 1300 | 1300 | 1300 | 1300 | 1300 | 1300 | 1300 | 1300 |
| Nominal pressure of gas (Liquefied), Pa | 2900 | 2900 | 2900 | 2900 | 2900 | 2900 | 2900 | 2900 | 2900 | 2900 |
| Maximum operating pressure of heat carrier, MPa | 0,3 | 0,3 | 0,3 | 0,3 | 0,3 | 0,3 | 0,3 | 0,3 | 0,3 | 0,3 |
| Minimuml operating pressure of heat carrier, MPa | 0,1 | 0,1 | 0,1 | 0,1 | 0,1 | 0,1 | 0,1 | 0,1 | 0,1 | 0,1 |
| Volume of fixed extension tank , L | 6 | 6 | 6 | 6 | 6 | 6 | 6 | 8 | 8 | 8 |
| Preliminary pressure of air in extension tank, MPa | 0,1 | 0,1 | 0,1 | 0,1 | 0,1 | 0,1 | 0,1 | 0,1 | 0,1 | 0,1 |
| Maximum pressure in hot water supply system, MPa | 0,8 | 0,8 | 0,8 | 0,8 | 0,8 | 0,8 | 0,8 | 0,8 | 0,8 | 0,8 |
| Maximum water discharge in hot water supply system at ΔТ=25 °С, l/min | 9,7 | 9,7 | 9,7 | 9,7 | 9,7 | 13,1 | 13,1 | 18,1 | 18,1 | 18,1 |
| Minimum flow in hot water supply system, l/min | 1,5 | 1,5 | 1,5 | 1,5 | 1,5 | 1,5 | 1,5 | 1,5 | 1,5 | 1,5 |
| Average temperature of combustion gases, °С | 115 | 115 | 115 | 115 | 115 | 115 | 115 | 115 | 115 | 115 |
| Parameters of feeding electric circuit, V/Hz | 220/50 | 220/50 | 220/50 | 220/50 | 220/50 | 220/50 | 220/50 | 220/50 | 220/50 | 220/50 |
| Maximum power consumption, W | 125 | 125 | 125 | 125 | 125 | 125 | 125 | 135 | 135 | 135 |
| Dimensions, mm: | | | | | | | | | | |
| Height | 770 | 770 | 770 | 770 | 770 | 770 | 770 | 770 | 770 | 770 |
| Width | 430 | 430 | 430 | 430 | 430 | 430 | 430 | 430 | 430 | 430 |
| Depth | 268 | 268 | 268 | 268 | 268 | 268 | 268 | 340 | 340 | 340 |
| Net/gross weight , kg | 28/31 | 28/31 | 28/31 | 28/31 | 28/31 | 29/32 | 29/32 | 32/35 | 32/35 | 32/35 |