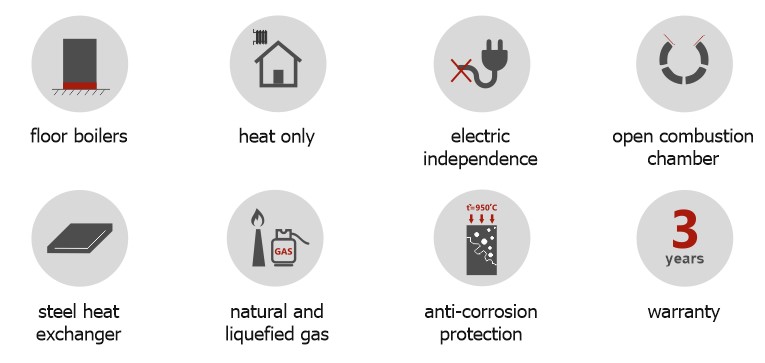 Product range: 12.5 to 50 kW.
Operating pressure up to 3 atm.
The advanced system protects the heat exchanger against overheating, draught loss, sooting, and freezing.
Operation in a heating system with both forced and natural circulation of the heat transfer medium.
Efficient operation with a minimum ratio of the volume of water in the boiler to the heat exchanger weight and area.
Continuous and smooth power modulation minimizing energy consumption.
Possibility of connecting the following: an indirect heating tank, a thermostat enabling adjustment of the boiler temperature relative to the indoor temperature, a Modbus remote control device (optional) to monitor and manage the level of comfort in the house (Android and IOS), outdoor temperature sensors, the Lemax Comfort series turbo nozzle for the exhaust gas forced removal, heating, and hot water supply system pumps.
Resistance to changes in voltage (180 - 245 V) and gas pressure (6 - 25 mbar).
Low noise level.
Easy boiler maintenance due to the quick-detachable top panel.
Specifications
Parameter
OMEGA Е-12.5
OMEGA Е-16
OMEGA Е-20
OMEGA Е-25
OMEGA Е-30
OMEGA E-35
OMEGA Е-40
OMEGA Е-50
Automatic safety controls
845 SIGMA
Rated heat capacity, kW
12.5
16
20
25
30
35
40
50
Efficiency, %
92*
Estimated area of heated premises, m2
125
160
200
250
300
350
400
500
Volume of heat transfer medium in the heat exchanger, l
21
21
36.6
31.7
31.7
45.8
45.8
63
Natural gas consumption, m3/h:
- max.
1.5
1.9
2.4
3.0
3.5
4.0
4.5
5.5
- average
0.75
0.95
1.2
1.5
1.75
2.0
2.25
2.75
Max. operating pressure of heat transfer medium, MPa
0.3
0.3
0.3
0.3
0.3
0.3
0.3
0.3
Rated pressure of natural gas, Pa
1.3
Rated pressure of liquefied gas, Pa
1,900-2,100
Draft range within which the stable operation of the boiler is ensured, Pa
4-25
4-25
4-25
4-40
4-40
4-40
4-40
4-40
Combustion product temperature, °C (min.)
110
Max. outlet temperature of heat-transfer medium, °C
90
Parameters of supply mains, V/Hz
230/50
Power consumption, W
26
Chimney diameter, mm
130
130
130
130
130
140
140
200
Connection dimensions of the nozzle at the interface with the gas supply system, inches
3/4"
3/4"
3/4"
3/4"
3/4"
3/4"
3/4"
3/4"
Connection dimensions of the nozzles at the interface with the heating system, inches
2"
2"
2"
2"
2"
2"
2"
2"
Dimensions, mm:
- height
865
865
1065
1065
1065
1112
1112
1230
- width
412
412
465
465
465
528
528
560
- depth
615
615
690
690
690
760
760
893
Weight, kg (max.)
- net weight
64/66
64/66
81/84
84/87
84/87
113/117
113/117
118/123
- gross weight
66/68
66/68
91/94
94/97
94/97
124/128
124/128
118/123