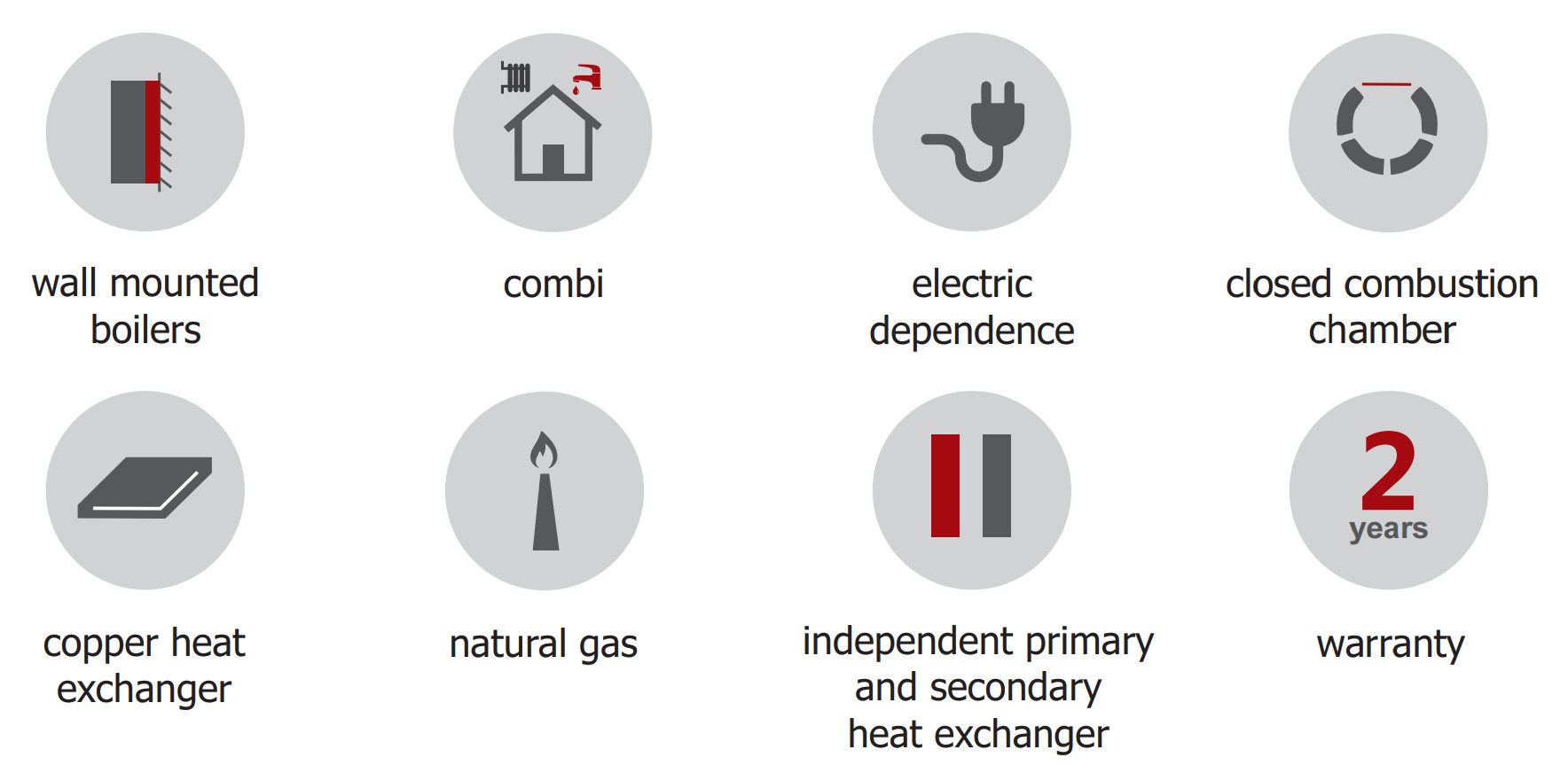 The model range is 24 kW, 35 kW.
The heat exchanger made of stainless steel Aisi 316.
The highest degree of modulation 1:10 allows the boiler to be used in heating systems of small rooms, while maintaining the performance of the hot water circuit.
Built-in weather-dependent automation ensures precise adjustment of equipment to external conditions in the presence of external sensors.
The sound- and heat-insulated housing reduces background noise and contributes to heat preservation.
The ability to connect the Lemax monitoring and control device together with the Lemax OpenTherm module for monitoring and managing comfort in the home (Android and IOS).
The combustion chamber, equipped with a burner with the Premix system, ensures maximum completeness of the combustion of the gas-air mixture and minimizes gas consumption.
The main heat exchanger with a built-in economizer allows you to optimize gas consumption regardless of the operating mode of the boiler.
Built-in siphon for collecting condensate.
A pump that circulates water in the system.
The ability to connect a room thermostat to adjust the temperature inside the room with high accuracy.
Double level of protection against excess pressure in the heating circuit, which is provided by a built-in pressure sensor and a relief valve.
Working in systems with high hydraulic resistance makes it possible in most cases to exclude the installation of an additional pump.
Structurally protected sensors and sensors from corrosion and scale.
The extended operating voltage range of the boiler allows for stable operation of the boiler in networks with high and low voltage (185 - 245 v).
The integrated ignition transformer ensures stable spark formation and maximum smoothness of ignition.
The water pressure indicator on the LCD display provides convenient water pressure monitoring.
The independent heat exchanger of the hot water supply circuit minimizes the cost of annual maintenance, ensures temperature stability in the hot water circuit and has a longer service life compared to a bitermic heat exchanger.
Reed flow sensor: the sealed contact detects the presence of a water flow, does not require regular maintenance and ensures that the hot water supply circuit is switched on at a water flow of 2 l/min, off at 1,5 l/min, which allows the use of a hot water supply circuit in rooms with low water pressure.
A bypass is installed in the collector group of the boiler, which protects the boiler elements from overheating when excessive hydraulic resistance appears in the heating system or when the coolant is blocked.
Ease of maintenance of the boiler due to the use of easily removable cladding.

| Parameter | PRIME-C | PRIME-C 35 |
| --- | --- | --- |
| Nominal heating capacity in heating mode of 80/60, kW | 24 | 32,3 |
| Minimum heat output in heating mode of 80/60, kW | 2,6 | 4,7 |
| Nominal heating capacity in heating mode of 50/30, kW | 26,4 | 35 |
| Minimum heat output in heating mode of 50/30, kW | 2,85 | 5 |
| Efficiency at lower calorific value *, up to% | 108 | 108 |
| Nominal (maximum) gas consumption, m3 / h | 2,68 | 3,5 |
| Nominal pressure (natural gas), Pa | 1300-2000 | 1300-2000 |
| Nominal pressure (liquefied gas), Pa | 2900 | 2900 |
| Maximum operating pressure of the coolant, MPa | 0,28 | 0,3 |
| Minimum operating pressure of the coolant, MPa | 0,1 | 0,08 |
| Volume of built-in expansion tank, l | 6 | 6 |
| Preliminary air pressure in the expansion tank, MPa | 0,1 | 0,1 |
| Maximum pressure in the system of hot water supply, MPa | 0,8 | - |
| Maximum consumption of hot water supply when heated to delta T = 250С | 16 | - |
| Minimum consumption of hot water supply, l / min | 2 min (on) 1,5 (off) | - |
| Flue gas temperature, ℃ | 75 | 80 |
| Maximum flue gas temperature, ℃ | 105 | 105 |
| Parameters of the supply circuit, V / Hz | 220/50 | 220/50 |
| Maximum consumed electric power, W | 175 | 175 |
| Average consumed electric power, W | 120 | - |
| Net / gross weight, kg, not more | 31/33 | 28,5/31,5 |
| Overall dimensions (height x width x depth) | 770/430/268 | 770/430/334 |