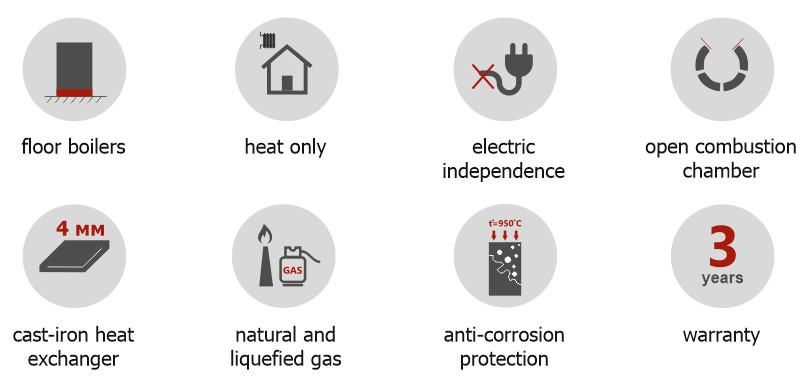 Extended power range from 16 to 50 kW.
The boiler does not require connection to the electric mains.
Cast iron needle type heat exchanger with 4 mm thick turbulators.
Operating pressure up to 4 atm.
Work in heating systems with forced circulation of the coolant.
Advanced protection system against heat exchanger overheating, draft interruption, boiler blowing.
Easy boiler cleaning through the use of a removable top panel.
Possibility of connecting a room thermostat to regulate the indoor temperature with high precision.
Working together with the Lemax monitoring and control device for remote monitoring and control of indicators of gas boilers and heating systems via a mobile application.
Soft start system for acoustic comfort when the boiler starts up.
Convenience of cleaning the boiler without disconnecting from the chimney due to the use of removable lining covers and a weight stabilizer.
| Parameter | OMEGA CI 16 | OMEGA CI 25 | OMEGA CI 35 | OMEGA CI 40 | OMEGA CI 50 |
| --- | --- | --- | --- | --- | --- |
| Type of gas burner equipment | GGY-16ES | GGY-25ES | GGY-35ES | GGY-405ES | GGY-50ES |
| Nominal input thermal power, kW | 16,5 | 25 | 32,5 | 41 | 53 |
| Deviation of the nominal heat input,% | 5 | 5 | 5 | 5 | 5 |
| Nominal heat output, kW | 15 | 22 | 29 | 37 | 48 |
| Efficiency %, no more | 90 | 90 | 90 | 90 | 90 |
| Volume of the heat carrier in the heat exchanger, l | 7,2 | 9,6 | 12 | 14,4 | 16,8 |
| Nominal pressure (natural gas), Pa | 2000 | 2000 | 2000 | 2000 | 2000 |
| Nominal pressure (liquefied gas), Pa | 3000 | 3000 | 3000 | 3000 | 3000 |
| Maximum consumption of natural gas, m³/h | 1,75 | 2,62 | 3,41 | 4,3 | 5,6 |
| Vacuum range for stable operation, Pa | 3-25 | 3-40 | 3-40 | 3-40 | 3-40 |
| Working water pressure, MPa | 0,4 | 0,4 | 0,4 | 0,4 | 0,4 |
| Maximum outlet water temperature, no more | 95 | 95 | 95 | 95 | 95 |
| Flue gas temperature, ℃ | 80 | 80 | 80 | 80 | 80 |
| Chimney diameter, mm | 128 | 128 | 145 | 145 | 145 |
| Net weight, kg, not more | 100 | 110 | 130 | 145 | 190 |
| Overall dimensions height/width/depth | 800/418/545 | 800/418/624 | 810/418/708 | 960/418/786 | 860/418/864 |