The original design of the front panel.
Work in automatic mode.
Copper heat exchanger (oxygen-free copper) provides fast heating of water and a long service life.
The device operates at a water pressure of 0,15 atm: it is optimal for users living on upper floors or having low water pressure.
Ion flame control: when the burner goes out, it automatically turns off the gas supply.
Protection against dry burning: when the device is turned on without water flow, the device will automatically turn off the gas supply.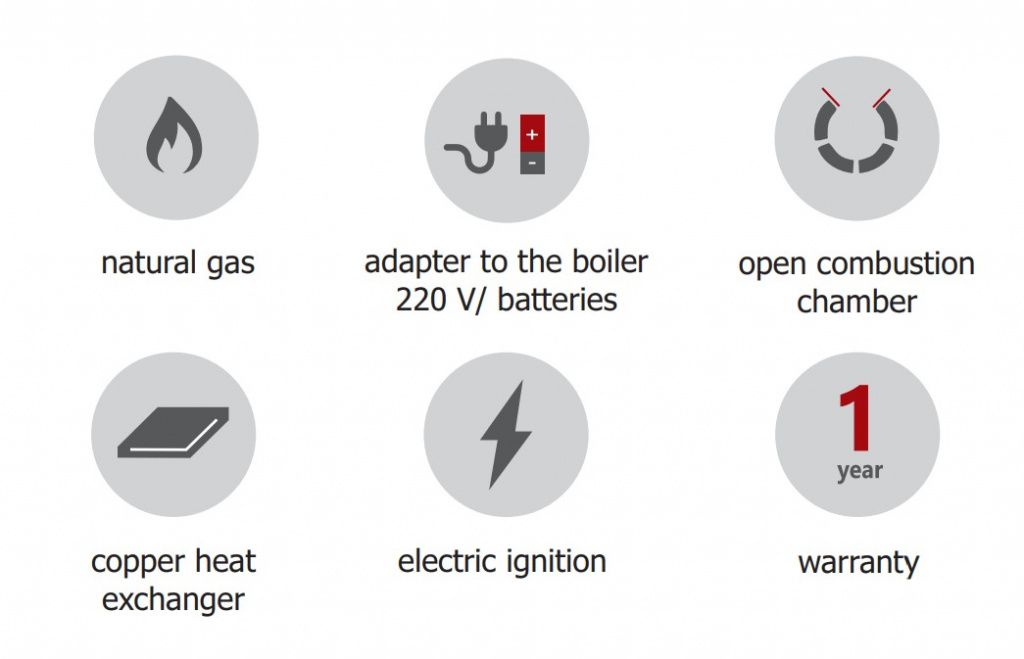 | Parameter | Classic-20 | Classic-24 | Classic-32 |
| --- | --- | --- | --- |
| Type of combustion chamber | open | open | open |
| Rated thermal power, kW | 20 | 24 | 32 |
| Minimum thermal power, kW | 10 | 12 | 16 |
| Rated heating capacity, kW | 16.8 | 20.2 | 26.9 |
| Minimum heating capacity, kW | 8.4 | 10.1 | 13.5 |
| Nominal pressure of natural gas, Pa | 1274 | 1274 | 1274 |
| Nominal consumption of natural gas, m3/h | 2.32 | 2.78 | 3.71 |
| Efficiency, % not less | 84 | 84 | 84 |
| The pressure of the conducted water for the normal operation of the device, atm | 0.2-6 | 0.2-6 | 0.2-6 |
| Minimum water flow (for ignition), l/min | 2.5 | 2.5 | 2.5 |
| The ignition time of the device in the cold state / in steady-state operation, sec | 9/9 | 9/9 | 9/9 |
| Water consumption at t=25 C, l/min | 10 | 12 | 16 |
| Smoke temperature, C not less than | 110 | 110 | 110 |
| The ignition of the device is automatic | yes | yes | yes |
| Flame modulation | yes | yes | yes |
| Diameter of the gas pipe, inch | 1/2" | 1/2" | 1/2" |
| Diameter of the water pipe, inch | 1/2" | 1/2" | 1/2" |
| Chimney connection diameter, inch | 115-120 | 115-120 | 120-135 |
| Electrical network parameters, V/Hz | ~110-240/50 | ~110-240/50 | ~110-240/50 |
| Electrical power consumption, W | 2 | 2 | 2 |
| Dimensions (h/w/d), mm no more | 550/330/188 | 610/350/188 | 700440/205 |
| Weight, kg no more | 8.6/9.7 | 9.6/11.2 | 13.2/15.2 |