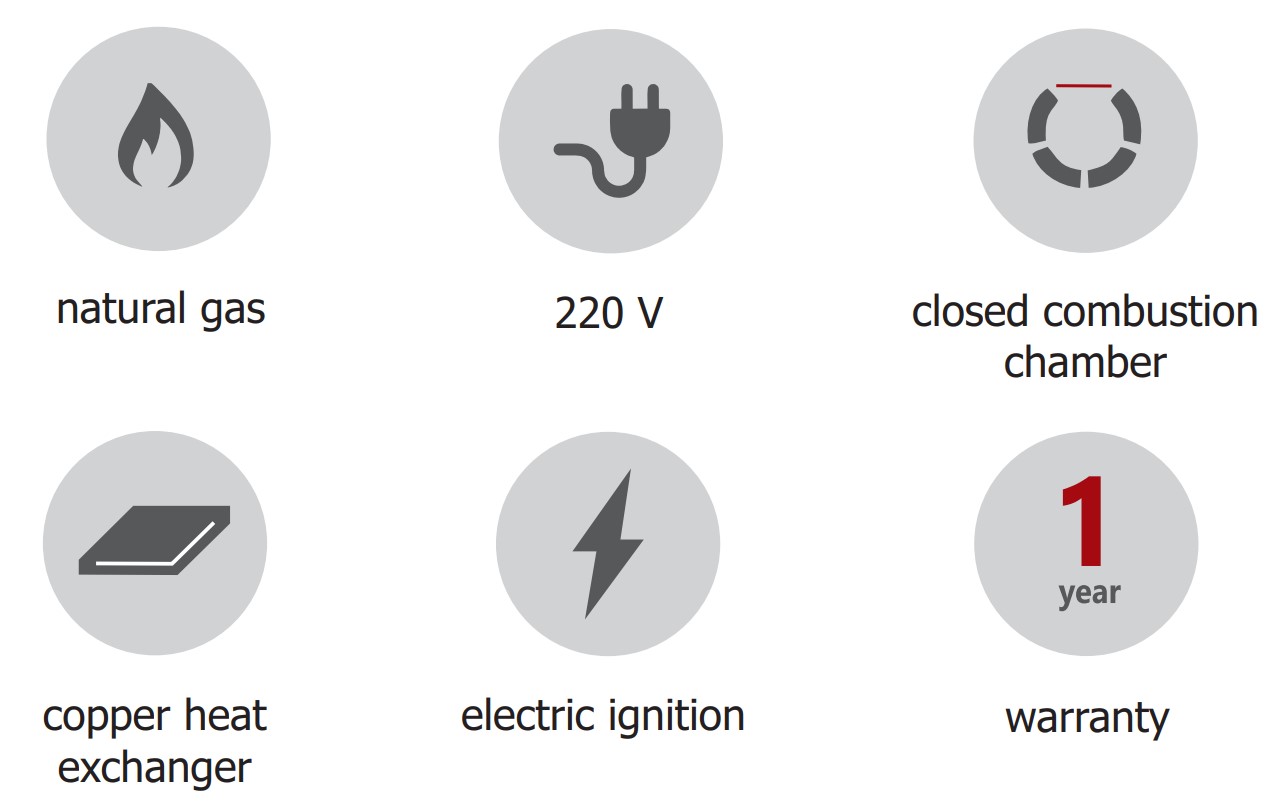 The model with a multi-level control system provides the maximum level of safety and comfort.
Air intake and smoke extraction systems allow you to install the device regardless of the location of the vent channel or chimney (in coordination with the gas industry at the place of installation of the equipment).
Modern ergonomic design with an intelligent touch control display, with which you can maintain and monitor the temperature of water heating.
The microprocessor control system ensures a constant water temperature at the outlet by using the modulation mode.
Ion flame control: when the burner goes out, it automatically turns off the gas supply.
Protection against dry burning: when the device is turned on without water flow, the device will automatically turn off the gas supply.

| Parameter | Turbo-24 | Balans-24 |
| --- | --- | --- |
| Combustion chamber's type | closed | closed |
| Air intake | inside | outside |
| Rated thermal power, kW | 24 | 24 |
| Conventional gas nominal pressure, pascal | 1274 | 1274 |
| Conventional gas rated consumption, m3/hr | 2,78 | 2,78 |
| Coefficient of performance, % min | 84 | 84 |
| Water supplied pressure for the normal apparatus operation, atm | 0,2-6 | 0,2-6 |
| Minimal water flow (for spitting) l/min | 2,5 | 2,5 |
| Flow quantity under heating on ?t=25°С l/min | 12 | 12 |
| Products of combustion temperature, °С, min | 110 | 110 |
| Electrical ignition of device, | yes | yes |
| Flame modulation | yes | yes |
| Diameter of gas stub pipe, DM | 1/2" | 1/2" |
| Diameter of water stub pipe, DM | 1/2" | 1/2" |
| Diameter of flue, mm | 60 | 60/100 |
| Power intake, W | 40 | 40 |
| Device dimensional specifications, mm (Height\ Width\ Depth) | 560/350/106 | 560/350/106 |
| Mass, no more than, kg | 13,3 | 14,5 |