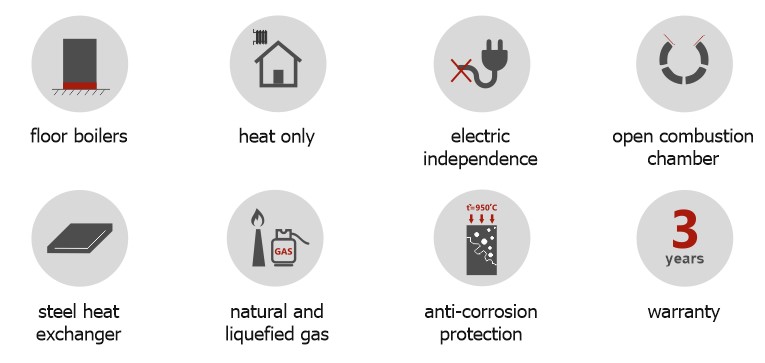 Product range: 7.5 to 30 kW.
The boiler does not require power supply.
Operating pressure: 12.5 to 30 kW: up to 3 atm; 7.5 to 10 kW: up to 1 atm.
Equipped with original gas-burner components and automatic safety controls as well as with the micro-flame injector burner.
The heat exchanger is made of high-quality 2 mm thick steel compliant with the European standard EN 10130:2006, the American standard ASTM A 1011, and the Russian standards GOST 16523-97 and GOST 9045-93.
Maximum efficiency thanks to an increased heat-exchanging area and utilisation of the innovative structure of the turbulence rings for maximum retention of effluent gases.
Corrosion-proof enamel coating (operating temperature up to 950°C) and inhibitive composition coating protect the heat exchanger from aggressive factors and saline solutions.
Has a system of protection from draught loss, sooting, and blowout.
Stable operation with insufficiently insulated chimneys.
Affordable price while maintaining efficiency parameters thanks to the unification of equipment elements, standardisation of units, and robot automation of the manufacturing processes.
Simple maintenance of the boiler thanks to an easily removable top panel.
| Parameter | Norm-7.5 | Norm-10 | Norm-12.5 | Norm-12.5 | Norm-20 | Norm-25 | Norm-30 |
| --- | --- | --- | --- | --- | --- | --- | --- |
| Gas burner type | GGU-9D | GGU-12D | GGU-15D | GGU-19D | GGU-24D | GGU-30D | GGU-35D |
| Automatic safety controls | 630 EUROSIT | 630 EUROSIT | 630 EUROSIT | 630 EUROSIT | 630 EUROSIT | 710 EUROSIT | 710 EUROSIT |
| Rated heat capacity (kW) | 7.5 | 10 | 12.5 | 16 | 20 | 25 | 30 |
| Efficiency (%) | 88 | 88 | 90 | 90 | 90 | 90 | 90 |
| Estimated area of heated premises (m2) | 75 | 100 | 125 | 160 | 200 | 250 | 300 |
| Heat transfer medium volume in the heat exchanger (L) | 16.5 | 16.5 | 24 | 24 | 45 | 43 | 43 |
| Natural-gas consumption (m3/h) (maximum/average) | 0.9 | 1.2 | 1.5 | 1.9 | 2.4 | 3.0 | 3.5 |
| Heat-transfer medium operating pressure (MPa) | 0.1 | 0.1 | 0.3 | 0.3 | 0.3 | 0.3 | 0.3 |
| Rated natural gas pressure (Pa) | 1.300 | 1.300 | 1.300 | 1.300 | 1.300 | 1.300 | 1.300 |
| Draft range within which stable boiler operation is maintained (Pa) | 3–25 | 3–25 | 3–25 | 3–25 | 3–25 | 3–40 | 3–40 |
| Minimum combustion-product temperature (°C) | 110 | 110 | 110 | 110 | 110 | 110 | 110 |
| Maximum outlet temperature of the heat-transfer medium (°C) | 90 | 90 | 90 | 90 | 90 | 90 | 90 |
| Chimney diameter (mm) | 100 | 100 | 130 | 130 | 130 | 130 | 130 |
| Connection dimensions of the nozzle at the interface with the gas-supply system (inches) | 1/2" | 1/2" | 1/2" | 1/2" | 1/2" | 1/2" | 1/2" |
| Connection dimensions of the nozzles at the interface with the heating system (inches) | 1 1/2" | 1 1/2" | 2" | 2" | 2" | 2" | 2" |
| Overall dimensions, mm (height/width/depth) | 677/282/474 | 677/282/474 | 744/410/505 | 744/410/505 | 926/451/568 | 926/451/568 | 926/451/568 |
| Maximum weight, kg (net, gross) | 31, 33 | 31, 33 | 46, 48 | 46, 48 | 67, 69 | 71, 73 | 71, 73 |