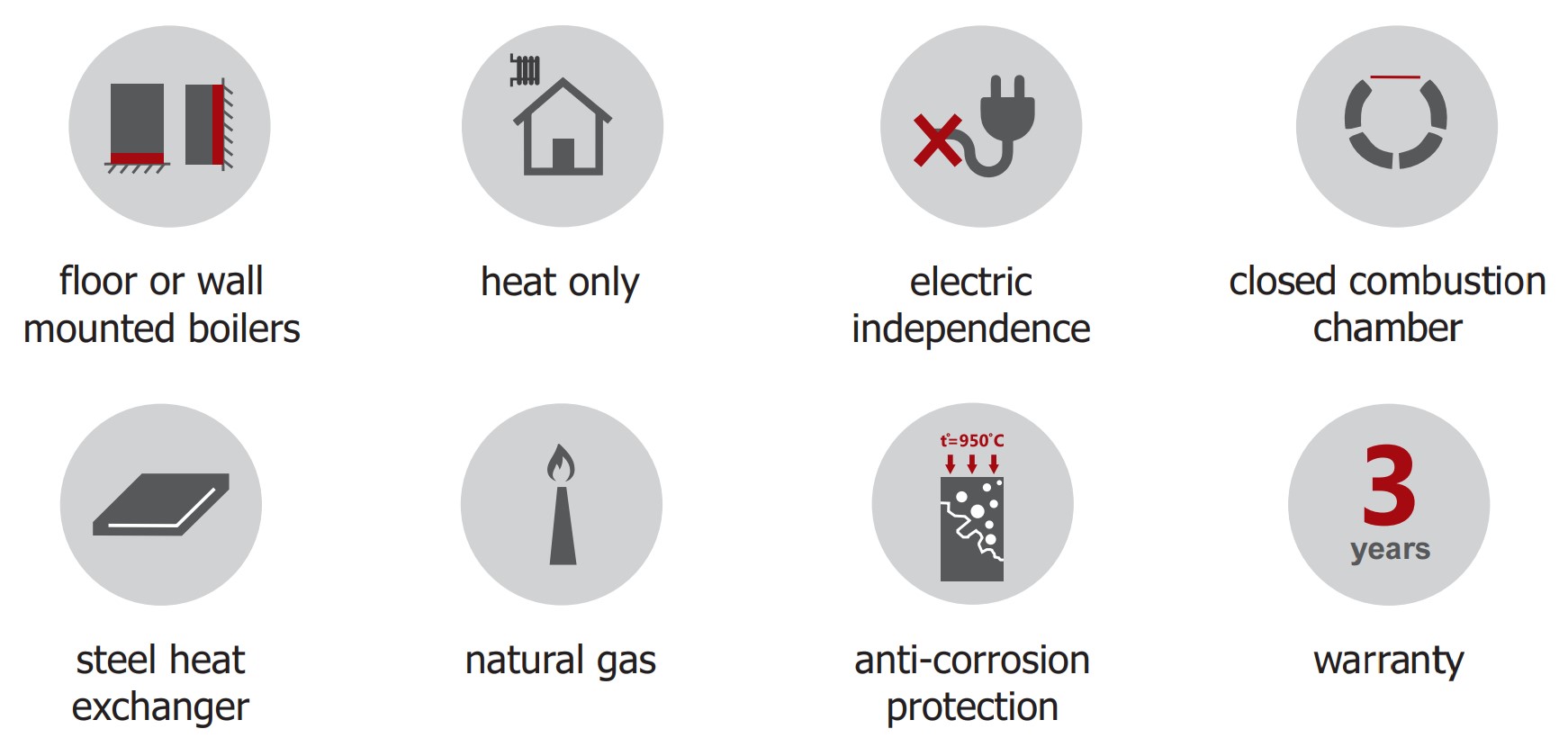 The model range is from 6 to 20 kW.
Maximum efficiency due to an increase in the heat exchange area and the use of an innovative design of turbulators for maximum delay of exhaust gases.
Operating pressure - up to 1,5 atm.
Improved safety systems against overheating of the heat exchanger.
Coaxial smoke extraction system that does not require the organization of a stationary chimney(stainless steel configuration is possible).
Viewing window for monitoring the gorenje of the main andignition burners.
Ease of maintenance of the boiler due to the use of an easily removable top panel.
Name of parameters
Patriot‑6
Patriot‑7,5
Patriot‑10
Patriot‑12.5
Patriot‑16
Patriot‑20
Type of gas burner unit
GGY-7,5p
GGY-9p
GGY-12P
GGY-15p
GGY-19P
GGY-24P
Automatic safety controls
630 EUROSIT
Rated heat output, kW
6
7,5
10
12,5
16
20
Efficiency factor, %
87
87
87
87
87
87
Approximate area of the heated space, m2
60
75
100
125
160
200
Volume of the heat carrier in the heat exchanger, l
9,8
9,8
14,4
14,4
20,7
20,7
Natural gas consumption. m3/h
maximum
medium

0,75
0,38

0,9
0,45

1,2
0.6

1.5
0,75

1.9
0.95

2.4
1.2
Process pressure of the heat carrier, MPa
1,5
1,5
1,5
1,5
1,5
1,5
Nominal pressure of natural gas. Pa
1300
Temperature of combustion products. No less than. C
110
110
110
110
110
110
Maximum temperature of the heat carrier at the boiler outlet. С
90
90
90
90
90
90
Diameter of the coaxial flue, mm
250
250
250
250
310
310
Length of the coaxial flue, mm
330-800
330-800
330-800
330-800
330-800
330-800
Linkage dimensions of the branch pipes to the gas supply system, inch
1/2"
1/2"
1/2"
1/2"
1/2"
1/2"
Linkage dimensions of the branch pipes to the heating system, inch
1 1/2"
1 1/2"
1 1/2"
1 1/2"
2"
2"
Overall dimensions, mm
height
width
depth

740
550
310

740
550
310

740
595
360

740
595
360

790
670
400

790
670
400
Mass, kg, no more than
net
gross

43
45

43
45

48
50

48
50

66
68

66
68