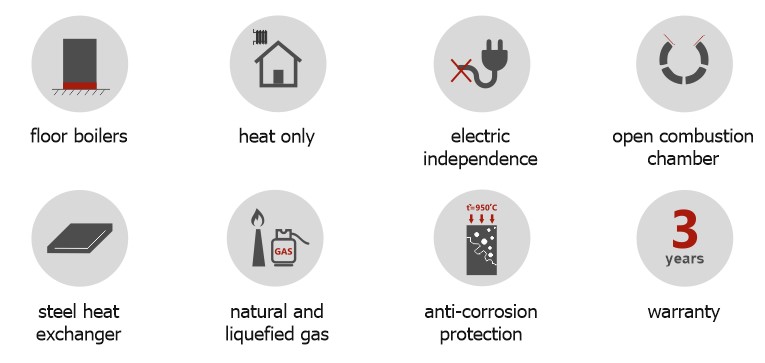 The model range is from 7,5 to 50 kW.

Operating pressure: from 12,5 to 50 kW - up to 3 atm., from 7,5 to 10 kW - up to 1 atm.
Advanced safety systems against overheating of the heat exchanger, interruption of traction, soot formation, and blowing out of the boiler.
The temperature regulator is located on the front panel of the boiler.
Independent heat exchanger of the hot water circuit minimizes the cost of annual maintenance, provides temperature stability in the DHW circuit and has a longer service life compared to a bi-thermal heat exchanger.
Working in conjunction with the Lemax monitoring and control device for remote monitoring and control of the gas boiler and heating system indicators through a mobile application.
Possibility of connecting a room thermostat to regulate the indoor temperature with high precision.
Work in conjunction with the Lemax External Fan of the Comfort SE series for forced exhaust gas removal in the absence of a stationary chimney.
A soft start system that provides acoustic comfort at the time of boiler start-up.
Possibility of connecting to a vertical or horizontal chimney.
Convenience of cleaning the boiler without disconnecting from the chimney due to the use of removable lining covers and a weight stabilizer.
Extended range of boiler operating voltage ensures stable operation in power grids with high and low voltage (186 - 245 v).
The heat exchange area was increased by 20% and the number of smoke channels was increased by 2,5 times to ensure the maximum possible efficiency at the lowest cost.
Possibility of connecting any relay room thermostat, with which you can have a comfortable temperature in the room regardless of changes the outside conditions.
Name of parameters
UNO–7.5



UNO–10



UNO–12.5



UNO–16



UNO–20



UNO–25



UNO–30



UNO–35



UNO–40



UNO–50



Type of gas burner equipment
GGY-9NP8
GGY- 9NP12
GGY-15NP
GGY-l9NP
GGY-24NP
GGY-30NP
GGY-35NP
GGY-40
GGY-45
GGY-55
Automatic safety controls
820 NOVA
820 NOVA
820 NOVA
820 N07A
820 NOVA
820 NOVA
820 NOVA
820 NOVA
820 NOVA
820 NOVA
Rated heat output, kW
7.5
10
12.5
16
20
25
30
35
40
50
Efficiency factor, %
92
Approximate area of the heated space, m2
75
100
125
160
200
250
300
350
400
500
Volume of the heat carrier in the heat exchanger, l
19,3
19.3
21
21
36.6
31.7
31.7
45.8
45.8
63
Natural gas consumption. m3/h
maximum/medium
0.9 /0.45
1.2/0.6
1.5/0.75
1.9/0.95
2.4/1.2
3.0/1.5
3,5/1.75
4,0/2.0
4.5/2.25
5.5/2.75
Process pressure of the heat carrier, MPa
0.1
0.1
0.3
0.3
0.3
0.3
0.3
0.3
0.3
0.3
Nominal pressure of natural gas. Pa
1300
Nominal pressure of liquified gas. Pa
1900-2100
The range of rarefaction under which stable operation of the boiler is ensured. Pa
4-25
4-25
4-25
4-25
4-25
4-40
4-40
4-40
4-40
4-40
Temperature of combustion products. No less than. C
110
Maximum temperature of the heat carrier at the boiler outlet. С
90
Diameter of the flue, mm
100
100
130
130
130
130
130
140
140
200
Linkage dimensions of the branch pipes to the gas supply system, inch

1/2"

1/2"
3/4"
3/4"
3/4"
3/4"
3/4"
3/4"
3/4"
3/4"
Linkage dimensions of the branch pipes to the heating system, inch
1 1/2"
1 1/2"
2"
2"
2"
2"
2"
2"
2"
2"
Overall dimensions, mm
height/width/depth
836/330/620
836/330/620
867/417/650
867/417/650
1060/470/722
1060/470/722
1060/470/722
1113/530/785
1113/530/785
1230/560/893
Mass, kg, no more than
net /gross
46/48
46/48
64/66
64/66
81/84
84/87
84/87
113/117
113/117
137/142